Tamiya Tamiya 2-Ch Remote Control Stag Beetle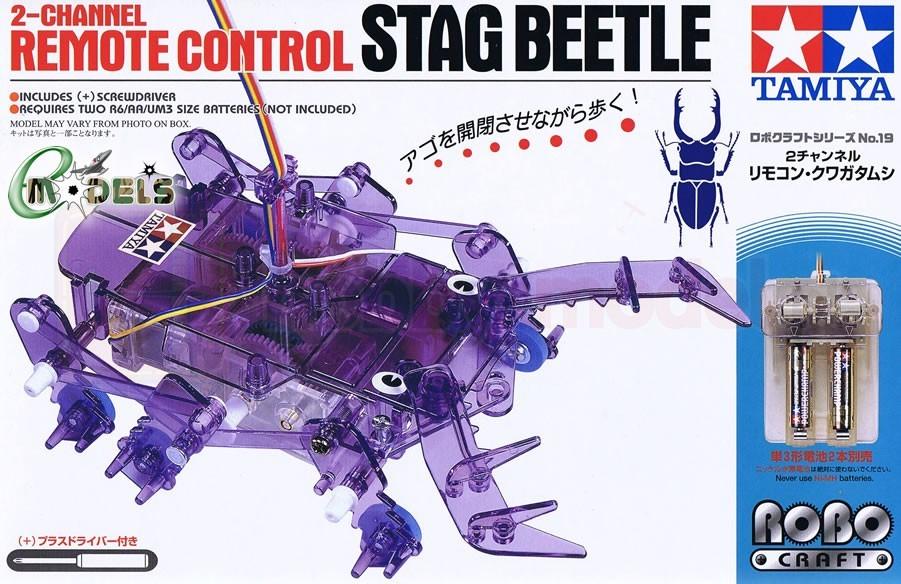 Shipped from Ontario Canada

3 in stock

---
This new Robocraft Series item is perfect for young aspiring robot builders. Forward/reverse and left/right movements are produced by two motors in pre-assembled gearboxes, which are controlled by a 2-stick, 2-channel remote controller with self-neutral function. In addition, the mouth section is linked to the legs to recreate opening/closing movement. The teeth positions in the mouth section can be freely arranged as well. This fun kit is assembled using screws, and a screwdriver is included to make the task even easier.

Length = about 175mm
Height = about 80mm
Width = about 110mm
Motor = Type 130 x2
Transparent body allows viewing of internal mechanics.
1 meter long control cable.
Requires two AA batteries(sold separately).

Move both left and right control sticks forward for forward movement, backward for reverse movement. Move left stick for right turn, right stick for left turn, and both sticks in opposite directions for 360-degree turn.
---
By: Tamiya
Added: 2022-04-02
SKU: GRA-TAM 71119
Category: Model Kits - Motors and Parts