Tamiya Tamiya Mechanical Racehorse (Galloping Typ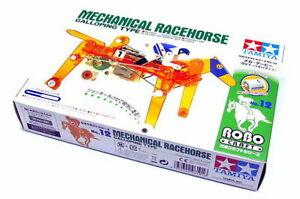 Shipped from Ontario Canada

2 in stock

---
Theyre off and racing!
The latest and fastest release in the Robocraft Series, this galloping racehorse with jockey is loads of fun to build, loads of fun to play with, and educational too! Employing left and right legs moving at the same time, the legs and wheel base have been designed for stability and faster running. Overall this galloping racehorse can run 30% faster than the mechanical rabbit.

Specifications
★Length: 193mm ★Height: 95mm ★Body material: ABS resin ★Gearbox, motor, reverse switch also included. ★Stickers for horses mask and number, and jockeys clothes are included. ★Requires one AA battery. (sold separately)

How to play
Run on flat, smooth surfaces. Avoid running over slopes, on bumpy roads or on thick carpet.
---
By: Tamiya
Added: 2022-04-02
SKU: GRA-TAM 71112
Category: Model Kits - Motors and Parts