Tamiya Pulley Set (Large)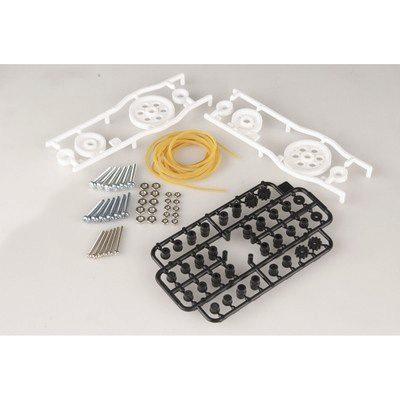 Shipped from Ontario Canada

4 in stock

---
These pulleys may be used as part of a power transfer system or a gear reduction system. Simply cross the rubber band over to reverse the rotation direction. In addition to the three types of pulleys, axle bushings are also included which are compatible with 2mm and 3mm hex shafts as well as 2mm and 3mm round shafts. A 1m long rubber cord as well as normal rubber bands complete the set.

• 50mm/25mm/11mm Pulley Wheels x2 each
• Bushings (Black), elastic (1 meter) and rubber bands are included.
• Comes with: 6 each of 3x18mm screws, 3x18mm tapping screws and 2x20mm screws; 10 each of 2mm and 3mm nuts.
• Bushings can accommodate Educational Construction series standards such as 2mm and 3mm diameter standard and hex shafts.

---
By: Tamiya
Added: 2021-03-04
SKU: GRA-TAM 70141
Category: Model Kits - Motors and Parts