Italeri Model Kits 1/24 Ford Escort Rs1800 Mk.Ii Rac Rally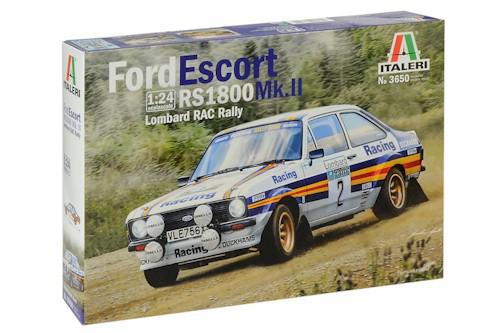 Shipped from Ontario Canada

2 in stock

---
THE BOX CONTAIN:

1 MODEL KIT - 1 LIQUID CEMENT - 1 TANK GUIDE - WORLD oF TANKS DECALS -
1 STATIC INVITE CODE - 1 BONUS CODE

Official German designation: Sturmgeschutz (StuG) 8.8cm Pak43/2 (Ferdinand/Elefant)

The StuG 8.8cm was based on the unsuccessful Porsche Tiger chassis fitted with a heavily armoured superstructure in the front and a mounted 8,8cm Pak 43/2 L/71 gun.

A total of 90 vehicles were produced; they first saw combat in the Battle of Kursk (Operation Citadel).
It was built in 1943 under the name Ferdinand, after its designer Ferdinand Porsche, but was soon renamed. After the Battle of Kursk, the remaining 48 vehicles were pulled out of service and given an overhaul. This included a ball-mount machine gun in the front along with a commander's cupola. The name Elefant was soon decided upon.

The vehicle was received with mixed feelings. It provided good protection with its thick armour but was severely unreliable in its mechanics due to the use of non-standard parts.

Nevertheless, the Ferdinand/Elefant might well have been the most successful tank destroyer employed during the war, with a kills to losses ratio of approximately 10:1.
---
Added: 2022-03-31
SKU: GRA-ITA 3650
Category: Model Kits